A Tradition of Enhancing the Transformative Student Experience at WSU
The CougParents Program provides financial support to new and innovative programs that directly contribute to the transformative student experience at Washington State University — enhancing the learning, leadership, and life of students outside of the classroom. The program is made possible by generous support from contributing parents, family members, alumni, and friends.
Funding from this program is allocated to registered student organizations (RSOs) and programs, adding value to the out-of-classroom experience at all WSU campus locations. Funds are awarded annually by members of the WSU CougParents Advisory Board based on need, number of students served, and the educational benefits derived.
Applying for CougParents Funding 
RSOs looking to host an event or program that may need additional financial support should consider applying to the CougParents Fund.
Applications are currently closed for the 2022-2023 academic year. Applications for 2023-2024 will open early in the fall 2023 semester.
Eligibility
For the 2022-2023 academic year, the amount of funding available is limited. We are currently limiting the eligible applicants to Registered Student Organizations (RSO) in good standing. 
Past and future funding has/may go to WSU academic colleges, units, or programs, or a WSU student services unit, program, or office.
Application Requirements
Applications will be considered if all the following terms are met:
Application is submitted by the deadline listed above.
CougParents Fund application and budget template (included in the application) are completed.
Event or program is held during the 2022-2023 academic calendar year, by no later than Friday, April 28, 2023.  The fund does not currently support programs that only occur in the summer.
Stories of Student Impact
Recipients of CougParents Program funding during the 2020-21 academic year included:
Cougs In Space
Cougs in Space, a student-led spacecraft engineering organization, developed an electric propulsion device called CougDrive-I for one of their future missions. CougParents support allowed them to finish building a high vacuum chamber and begin testing a portion of CougDrive-I's propulsion subsystems. Their research will be presented at the 2021 International Electric Space Propulsion conference.
"It is not often that students get the opportunity to send something to space. It is even less often that it is an electric propulsion device. It may put our college on the map as a competitive aerospace research center."
Colin Warn, Propulsion Team Lead
Cameron Cornwell, Structure Team Lead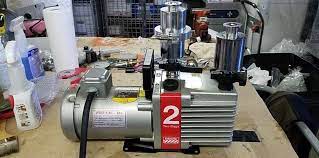 MLK/Common Reading Keynote Speakers
In 2021, the WSU MLK and Common Reading Programs joined forces to deliver several thought-provoking keynotes who could each speak to a facet of diversity and inclusion. CougParents Program funding made it possible to bring three keynotes to the virtual stage: Bree Newsome Bass, who focused on activism; Anthony Jack, who focused on campus inclusion of students of color; and Ijeoma Oluo, who focused on how to have conversations about race that are at the heart of change. The events drew attendance from all WSU campuses and WSU Extension.
"In a year where so much was different and challenging, we were very pleased to continue to offer quality programming to students across the WSU system. Thank you for your generous assistance in making these kinds of speakers and conversations possible for all within the WSU community."
Dr. Karen Weathermon, Director of First-Year Programs, Academic Engagement and Student Achievement
Dr. Allen Sutton, Executive Director of the Office of Outreach and Education
WSU Collegiate DECA
CougParents funding allowed 15 students to compete at the Collegiate DECA Regional Competition, with 10 members advancing to the national competition. Students presented on case studies in corporate finance, entrepreneurship operations, human resource management, managerial accounting, and marketing management. 
"Regional and national competition taught our members leadership, communication, professionalism, how to work under pressure, and how to create and share a business plan with business professionals in their field." 
Ryan Orcutt, WSU Collegiate DECA President
ASCC Virtual Etiquette Dinner
CougParents funding enabled the ASCC (Academic Success and Career Center) to offer a virtual etiquette dinner to students on the Everett, Spokane, Tri-Cities, Vancouver, and Pullman campuses. During the event, attendees learned how to prepare for a business dinner, navigate the virtual recruiting landscape, and network.
"It was great learning about dinner etiquette, how to network with people, and how to be a flexible person who can pivot quickly in their career."
Lindsay McCoy, WSU Pullman AMDT Masters student